Become a Member
Fitness Pointe membership, offered monthly, includes a free Individual Orientation Session and fitness assessment.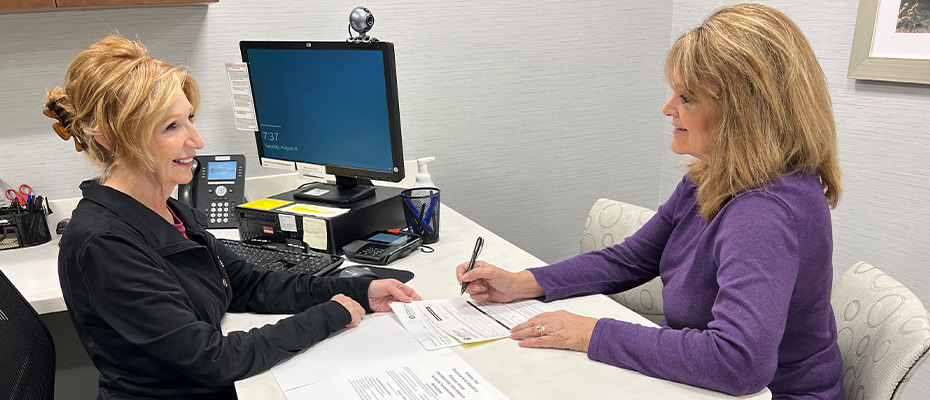 Membership
A one-time enrollment fee will be paid upon joining Fitness Pointe. There are no long-term, binding contracts. Membership is offered monthly. All memberships include a FREE Individual Orientation Session, which consists of a fitness assessment and an orientation. Fill out these forms to begin your membership process. Bring the completed forms with you when you sign up.
For more information on membership options, call our Membership Department from 8 am to 8 pm Monday-Thursday, 8 am to 5 pm Friday and 8 am to 2 pm Saturday at 219-924-5348.
New Member Individual Orientation Session
As a medically based facility, we adhere to the guidelines set by the American College of Sports Medicine (ACSM) to ensure each member a safe and effective fitness program based on their individual goals and needs.
New members may participate in a 45-minute Individual Orientation Session, which will be scheduled for a later date once their enrollment with the membership staff is completed. It includes:
goal-setting
gathering baseline health/fitness information
receiving a Fitness Pointe facility orientation
Subsequent COMPLIMENTARY services recommended based on each member's goals and program desires.
Frequently Asked Questions
Your exercise specialist will provide you with a friendly, non-intimidating, personal orientation to the Fitness Pointe facility. This COMPLIMENTARY service will help us get to know you better so we can design an effective exercise program, provide an introduction to our facility, gather baseline health and fitness information to measure your progress, and introduce you to a few pieces of equipment, if desired.
Comfortable athletic shoes, loose-fitting clothes.
Those who have certain medical conditions, according to the American College of Sports Medicine, are required to have their physician's written clearance prior to participating in their Individual Orientation Session.
The Fitness Assessment Department offers a number of FREE program services for the life of your membership. Should you need individual help, the Personal Training Department can provide a trainer at a nominal fee.
The exercise instructors on the Fitness Floor, as well as the Group Exercise instructors, in the Group Classes, can provide additional assistance as you begin your fitness program.
For your safety, Fitness Pointe adheres to blood pressure guidelines for cardiovascular and strength training exercises. For safety purposes, individuals not meeting blood pressure guidelines may be asked to avoid cardiovascular and/or strength training exercise until their blood pressure meets the guidelines. In addition, repeated elevated readings may require the individual to see medical attention.